---
signal 9 The reliant 32 380 38 - Scottman - 11-15-2017


http://www.signal9defense.com/
---
RE: signal 9 The reliant 32 380 38 - Jimbo - 11-16-2017

There have been previous 4 barrel handguns in the past.  There was a compact Off-Duty in Caliber .357 Mag (which will also fire .38 Special it goes with out saying), and there was also the Advantage Arms Model 422 which could be had in either.22 LR or .22 Magnum, both of which were classified "Special Purpose" handguns back in the 80's & 90's.


---
RE: signal 9 The reliant 32 380 38 - Scottman - 11-17-2017

It's currently vapor ware . Might give me a call


---
RE: signal 9 The reliant 32 380 38 - Jimbo - 11-17-2017

Some companies apparently have a worthy product, which the consumers never really accept, or it was so radical and far ahead of its time the manufacturer goes under before the product catches on and once the product is no longer available, or available in very limited quantities, everyone wants one. 

Then others announce their dreams so far in advance, trying to build support, confidence, raise funding for their efforts, etc; yet their product(s) see delays, after delays, before reaching market with some products never materializing for whatever reason. 

In the firearms world being categorized as "Special Purpose," as previous weapons of this type & style have been classified, is not always a desirable thing.  The consumer is a fickle lot, that is always changing what is "hot" and what is "NOT" in their purchasing sights.


---
RE: signal 9 The reliant 32 380 38 - Scottman - 11-19-2017

yeah I'd love to load test one out to 1 00 yards


---
RE: signal 9 The reliant 32 380 38 - Scottman - 12-18-2017

only 22 lr from my understanding more inline with the naa mini revolvers

http://www.iverjohnsonarms.com/derringers.html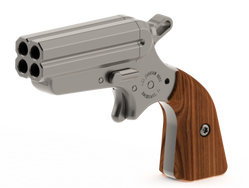 ---
RE: signal 9 The reliant 32 380 38 - Scottman - 04-27-2018

Called and no one answered sent second email starting to think it will never be made


---
RE: signal 9 The reliant 32 380 38 - Scottman - 04-28-2018

https://www.youtube.com/watch?v=6_hF-C1Dl_0


---
RE: signal 9 The reliant 32 380 38 - Deerstalker - 04-29-2018


(04-28-2018, 01:44 PM)

Scottman Wrote: https://www.youtube.com/watch?v=6_hF-C1Dl_0

Sensible balanced discussion
---