Guest
07-01-2008, 08:36 PM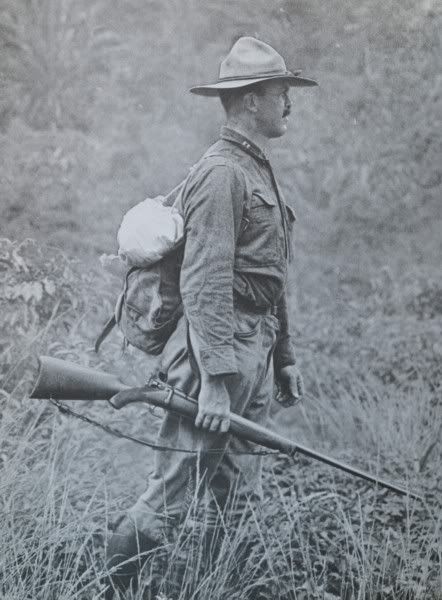 THE GREATEST RIFLEMAN OF A GENERATION: TOWNSEND WHELEN, HUNTING IN PANAMA, WITH AN IRON-SIGHTED M1903 SPRINGFIELD SPORTER, CIRCA 1915-17.
T
he way the Nine-Fingered Rat Bastard sees it, you can either be part of the problem, or part of the solution. Sitting around and complaining about something? That's being part of the problem.
I'd rather be part of the solution.
[center]* * * * *[/center]
Dear Uncle Bastard,



The last time I came to visit that wino flophouse SRO dump where you live, someone siphoned all the gas out of my car, stole my battery, slashed my tires, pinched a humongous loaf in my back seat, and gang-raped my dog. So you'll forgive me if I ask you this question by email, rather than venturing back to the Spider Hole to ask you in person. I just can't go through that again. And neither can Rex.



For the last year and a half I've been saving money by washing out condoms I find in the alley and reusing them instead of buying new ones. So between that and my

election year bribe from George Bush

tax rebate I have enough saved up to buy a decent centerfire bolt-action rifle, but I can't seem to find one with iron sights. What to do?



Your Nephew,



--Cletus
A
las, poor Cletus; what to do indeed? And Cletus is hardly alone: Iron sights—and the current lack of them on sporting rifles—seem to be a recurrent topic on this very Forum. Rather than just bitch-squeal porcinely about the problem, let's take a look at what we can do about it.
Iron (or metallic) sights used to be standard equipment on every rifle. And in some rifle classes they still are. Many if not most .22 rimfire rifles still come with irons. Almost all lever guns do. And most semi-autos with detachable magazines and pistol grips derived from military design—the so-called Assault Rifles—also have irons. Yet relatively few current-production bolt guns do. And while the sights on some of the assault-rifle designs can be pretty good, in reality the sights on the lever guns and .22s are pretty sub-standard, the bare minimum of what a good iron sight can be.
Maybe that's the bad news. The good news is that you can easily remedy the situation. A very nice selection of iron sights is still available in a wide range of designs. Whether or not a rifle comes with iron sights should be about the last item in your decision-making process: chambering and action type are far more important, especially when adding good irons is so easily done.
Iron sights have several very real advantages: They're lighter and more compact than any other sighting system. They're often more rugged too. They work well in the rain or in direct glare or in very dusty conditions. All of these are why most handguns still use irons. As a backup or a primary means of sighting your rifle, they're still a valuable asset.
Then there's the bolt-action rifle: perhaps the most versatile firearm we've had in the last 100 years. With a bolt action you can choose from the widest range of cartridges. The best designs have been produced in the millions and were proven in the mud-filled trenches of the First World War. A good design field strips easily. Bolt guns are super strong, and since most of them are magazine guns they offer the convenience and advantage of rapid second or third shots. They're also reliable and rugged—excellent character traits in a gun destined for field use.
Then why is it that so few centerfire bolt guns feature iron sights? Quite simply because the vast majority of shooters choose to mount telescopic sights on their bolt action rifles. Virtually all of those bolt actions come drilled and tapped for standard telescopic-sight mounting bases today; just 50 years ago this was hardly the case, and drilling and tapping for scope mounts was the rule, not the exception. Some companies like Ruger and Sako go even further and build their rifles with integral bases as part of the receiver. Complaining that a rifle lacks irons today is like complaining that a quality tennis racket comes unstrung, or that your skis don't come with bindings, or that a first-rate camera body doesn't come with a lens. Smart consumers know this going into the situation and choose these things for themselves. For the savvy shooter it's an opportunity for you to add the precise sighting system you choose--iron, optic, or electronic. For guys like Cletus, it's just an opportunity to squeal.
Iron sights need two principle parts: front and rear. The rear sight on most factory-equipped rifles is most commonly an open notch mounted somewhere on the barrel ahead of the receiver. They are seldom adjustable for windage, and often the elevation adjustment is crude as well. Most militaries realized the limitations of this arrangement 70 years ago and began equipping their soldiers with rifles using an aperture much closer to the shooter's eve, generally on the rear of the receiver.
If you're putting irons on a rifle—especially if you're not mounting a scope—an aperture sight (sometimes called a receiver sight) is really the smart way to go. In general they're robust, precise designs that do a couple of things really well. First, they increase the distance between the front and rear sights—the
sight radius
--and that increases the degree of practical precision which the sight is able to offer. Even more important, though, an aperture rear sight
close to the shooter's eye
almost automatically removes sight misalignment error and aids in focusing only on the front sight: the rear sight can be a total blur and still function superbly.
Rather than just read a bunch more of the Rat Bastard's verbal droppings, let's look at some photos. We'll discuss each photo with a caption that appears below it.
Front Sights
Here's a great example of a vintage sporting sight which has been added to an M1903 Springfield. It's a Lyman ramp, screwed and "sweated" to the barrel, and with a gold-bead front sight blade installed. These sight blades are of varying heights for a rough elevation zero, and the blade may be drifted in the base right-to-left in order to gain a rough windage zero.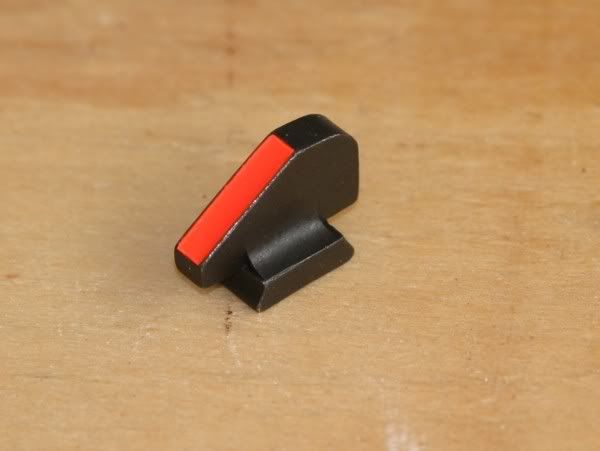 If you'd rather have a flat-topped front sight, these are several available too, from XS Sight Systems (more on them in a minute), Brockman's, and Millett. (Information on all resources appears at the end of this post). Most modern non-optical military sight systems use some form of the flat-topped post.
If you're concerned about protecting the front blade during transport or use, most commercial systems (and today that largely means Williams) offer bases which are grooved so one may fit a hood. This hood is on a Marlin factory front sight. There's no reason you can't mount a Marlin sight on, say, your Ruger or Remington either, although for most shooters a Williams would be easier to simply order up.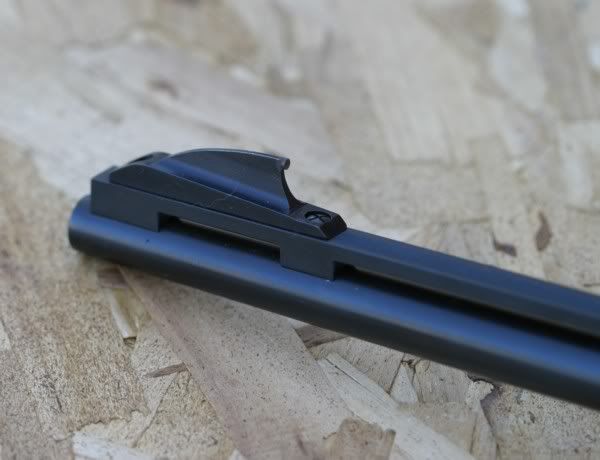 Swoopy! The 1960s were a groovy time—and that even spilled over to the rifles produced then. Witness this front sight blade on the Rat Bastard's Remington Model 600.
Target shooters often choose something called a globe front sight. This is a thick-walled tube—sort of a "super hood"—with interchangeable inserts. Its versatile and strong, and a great choice for bulls-eye shooting. But the thick wall section of the hood, while fine on the target range, is a distraction in the field. Still, it's an option you should know about
Another view of the globe sight, this one on a Swedish M96 Mauser. Note how this model simply clamps to the barrel over the existing blade front sight.